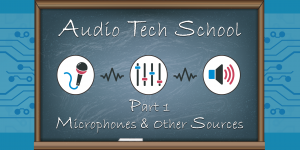 Due to circumstances beyond our control this workshop has been cancelled. We will be rescheduling the workshop for a later date and will update our post as soon as that information is available.
Audio Tech School – Part 1 is the first of four classes occurring quarterly throughout 2020.
Because you cannot get better than the source, this class will start with an in-depth look at microphones: how they work, the different types and pick up patterns, what microphone to use for what application, microphone placement techniques, types of microphone stands and more. We will also discuss properly interfacing consumer devices such as computers, tablets, phones, mp3 players, cd players, etc into professional audio systems.
Other topics will include:
Proper Mixing Console Gain Structure
How to use Equalization and the Ground Plane Technique
Includes Continental Breakfast and Boxed Lunch for attendees
Come be a part of our 2020 Audio Tech School!